From an accurate diagnosis to completely personalized treatment plans, Spokane Chiropractic and Sports Injury Clinic can help you find relief from pain, as well as long-term health. 
Chiropractic is not just about resolving an injury, either. It is also an important tool in preventing harm to the body. It strengthens the body, giving athletes a competitive edge and helping them stay in the game. Whether you are looking to get back to normal daily function or to recover from a sports injury and get back to your peak performance, we will work with you to reach that goal.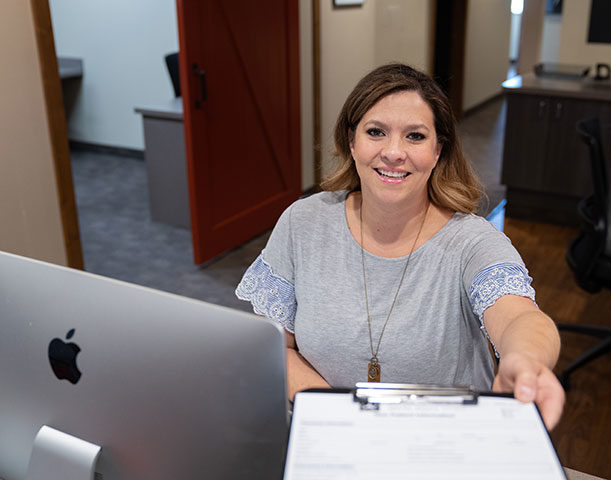 At Spokane Chiropractic and Sports Injury Clinic, we respect you and your time. For that reason, we are pleased to provide you with information on what you can expect and how to expedite the first-visit process. Whether you are visiting us for back pain, sports injury, or another condition, you can rest assured that you will be treated with the utmost respect and consideration.
Please plan for your initial visit to last approximately 60 minutes.
Registration – As a courtesy to our patients, we have provided downloadable versions of all or our registration forms. You are welcome to complete them online, print them to bring in with you, or fill them out in our office. You can find the downloadable forms on our New Patient Forms page.
History – One of the most critical components of the initial visit is to understand your health concerns and medical history. This step is a cornerstone in developing an accurate diagnosis and effective treatment plan that fits your specific needs.
Physical Examination – During the examination, the doctor will complete a neurological and orthopedic examination, as well as a function assessment of your posture, muscle function, flexibility, and spinal joint function. Rarely, patients may be referred to a local facility if diagnostic imaging is indicated.
Treatment Planning – The professional staff at Spokane Chiropractic and Sports Injury Clinic will use your history and examination results to determine a diagnosis, which will then be presented. With your input, we will then work to determine the best course of action for your treatment. We work with you to get you back to your active lifestyle as quickly as possible.
Treatment – Depending on your needs, treatment may include a combination of spinal manipulation and soft tissue therapies such as Kinseio® Taping, ART®, Graston©, massage therapy, stretches, and rehabilitation exercises. (For more information, please visit our Services and Techniques section.)
Home Instructions – At Spokane Chiropractic and Sports Injury Clinic, our foremost objective is to help you restore optimal function and improved performance. We recognize that this goal requires a partnership between our professionals and each individual patient. You may be asked to take an active role in your recovery by doing exercises and making certain lifestyle changes that will speed and support the effectiveness of your treatment.
Chiropractic adjustment, also referred to as "joint manipulation," is performed by the doctors of Spokane Chiropractic and Sports Injury Clinic, who will apply their hands and/or appropriate instruments to areas of the spine, sometimes with a quick manual movement of the joint. In some cases, the joint will make a popping or cracking sound just as when you "crack" your knuckles. If there is no sound, don't be concerned, as it is not necessary for successful treatment.
Because every patient at Spokane Chiropractic and Sports Injury Clinic has his or her own personalized treatment plan, the number of treatments required will vary. The type of condition or injury you experience, your healthcare goals, previous injuries, duration of the condition, severity of an injury, and overall health status will all affect your appropriate treatment decisions. Whether your choice is to work full-time at rehabilitation or to play through an injury, we will create an approach that works for you.
For example, some patients are only seeking relief from immediate pain, which can possibly be achieved in only a few treatments. For others, ongoing health goals may require more comprehensive and long-lasting care. For some people, chiropractic adjustments are a routine part of health maintenance, with occasionally adjustments being a part of their overall approach to well being. Dr. Brian Mather and his staff respect a patient's wishes and always leave the decision up to the person most affected…you.
At Spokane Chiropractic and Sports Injury Clinic, we provide evaluation and treatment for a variety of conditions that affect the musculoskeletal and nervous systems. Patients benefit from our team approach to patient care, such as quick relief and sustained improvements to overall health. Some of the most common conditions we treat include:
Low back pain

Neck pain

Sacroiliac (SI) joint dysfunction

Headaches

Disc injuries

Pinched nerves

Strains and sprains

Muscle spasm and pain

Repetitive strain injuries

Post surgical back pain

Shoulder injuries and pain

Hip pain

Ankle and foot pain

Knee pain

Sciatica

Whiplash

Plantar fasciitis

Carpal tunnel syndrome

TMJ or jaw pain

Elbow, wrist or hand pain
In addition, our patients find support and treatment for many common medical diagnoses, including:
Spine Conditions
Mechanical spine pain

Torticollis

Neck pain

Cervical radiculopathy

Disc Herniation

Rib joint pain and dysfunction

Thoracic outlet syndrome

Cervicogenic headache

Spinal stenosis

Facet syndrome

Scoliosis
Sports Extremity Injuries
Shoulder (rotator cuff) tendonitis

Tennis and golfer's elbow (lateral and medical epicondylosis)

Scar tissue

Patellofemoral pain

Achilles tendonitis

Plantar fascitis

Iliotibial band (ITB) Syndrome

Shin splints
Work Related Injuries
Back and neck injuries

General strains and sprains

Repetitive strain injuries

Carpal tunnel syndromes

Thoracic outlet syndrome
Motor Vehicle Accidents
Whiplash

Strains and sprains

Mandibular whiplash syndrome

Post-concussion headaches and dizziness
Other Regularly Treated Conditions
Myofascial pain syndromes

Dizziness/vertigo

Temporal-mandibular joint disorders

Headaches — tension, migraine, cervicogenic
There are different phases of care for back pain and other conditions, and at Spokane Chiropractic and Sports Injury Clinic, we see you through each stage, providing treatment, information, and ongoing support for your lifestyle.
Acute Care – This phase of care happens within the first few days after an injury in order to reduce pain, inflammation, and muscle spasms. The most common therapeutic modalities for this phase include ice, Kinesio® Taping, and gentle massage.
Remobilization – The next step taken at Spokane Chiropractic and Sports Injury Clinic is that of "remobilization." Techniques such as spinal manipulation and muscle release are most commonly used during this phase in order to restore optimal mobility and flexibility to a patient's joints and muscles. The goal is to help you engage in the active lifestyle that you seek.
Reactivation – As the patient's joints and muscles become remobilized, flexibility training and other exercises can be integrated into the treatment program. Scientific studies show that introducing these exercises early on in the treatment process has a positive effect on the facilitation of rapid recovery, as well as a decrease in recurrences of the condition or injury.
Supportive Care – Upon completion of treatment, a patient may benefit from various types of supportive care. This can include follow-up exams and treatments or the integration of exercises or lifestyle changes outside of the clinic. We work with our patients to find the types of supportive care that will best enhance and continue their recovery.
Financial/Insurance Information
Many health plans reimburse for a portion of chiropractic treatment. Due to variations in insurance policies (even under the same insurance company), we recommend that you contact your insurance company or benefits coordinator to verify your policy benefits. Our staff will confirm your benefits, but this does not guarantee payment by the insurance company.
We are preferred providers for most health insurance companies and accept worker's compensation and personal injury (motor vehicle accident*) insurance. The following is a partial list of insurance companies for which we are preferred providers:
Aetna
Asuris
Blue Cross and Blue Shield
Cigna
Kaiser Permanente
First Choice
Lifewise of Washington
Medicare (Important information for Medicare Beneficiaries)
Providence
Premera
United Healthcare
We also accept cash, checks, Mastercard, Visa, Discover Card and American Express. 
If you are involved in a motor vehicle accident or work related injury, personal injury and worker's compensation insurance will usually pay for the care that you require.
Each insurance company has rules that must be followed in order to ensure payment.
If you were involved in a car accident, please bring with you a copy of your motor vehicle insurance and a medical claim number. We do not bill third party insurers. We will bill your auto insurance and your insurance company will be reimbursed by the at fault party's insurance company.
Patient's involved in a work related injury must supply the claim number and insurance company information in order to initiate an initial evaluation. If you have already filed an industrial injury/workers compensation claim and have chosen your attending physician, please bring a referral for chiropractic care or massage therapy. If you do not have an attending physician, please contact our office to inquire about one of our physicians becoming your attending physician for the claim.
Pay for your chiropractic treatment with pre-tax dollars and save. 
If your employer sponsors a health care spending program in which you participate, ask us for a receipt for any payments that you make. It is certainly worth an inquiry to find out if your company sponsors a program.
Considering the fact that health insurance policies frequently change, we strongly recommend that our patients contact their health insurance company to request verification of chiropractic benefits.
Verification of benefits is not a guarantee that an insurance company will pay for all of the care that a given patient might require.
Some Background Information
Health insurance is not intended to be the exclusive payer for chiropractic care; rather, it serves as a supplement.
Most health insurance companies will reimburse for a portion of chiropractic treatment. The amount of coverage is determined by the policy limits that were negotiated by the policy holder's employer group. Unfortunately, we have no control over the terms of your policy.
When selecting a health insurance carrier and benefits plan, it is important to consider the health services that you use. If you, or the policy beneficiaries, wish to receive chiropractic care as part of the plan, pay close attention to the benefits that you will receive.
"Usual and Customary Fees"
Most health insurance companies will pay a set amount for a given chiropractic procedure. They refer to this as their "Usual and Customary" or "Reasonable and Customary" fee. This "discounted fee" will be reflected on the insurance company Explanation of Benefits (EOB) that you receive. Although the fees that we submit to the insurance company are higher than the paid amount, it does not mean that your insurance company has been over charged, nor does it reflect the cost of delivering a given service. The "allowed" amount simply reflects the amount that the insurance company is willing to pay.
Important Terms to Know
Deductible — the annual amount that must be paid by the patient before health insurance benefits begin. Many health insurance carriers have deductibles for each family member.
Benefit period, annual versus rolling — most insurance companies reset their treatment deductible allotments via calendar year, whereas others use a rolling calendar date that begins upon the date of insurance enrollment.
Co-payment — payment made by the patient that represents partial payment toward services rendered. Co-payments commonly range from $0.00 to $50.00 and must be paid at the time that the service is rendered.
Co-insurance — payment that is made toward services rendered, in addition to any co-payments. It is becoming more common to see policies that have BOTH co-payments and co-insurance.
Annual Limits
Health insurance carriers typically have an annual policy limit for chiropractic services. These limits may be set by a dollar amount, or by a number of treatments. For example, some plans have a $1000.00 annual maximum benefit, while others allow for a set number of treatments. A commonly encountered treatment number is 12.
Procedure Exclusions
Some health insurance companies will reimburse for spinal manipulative therapy only. Other services that are provided in the best interest of restoring your health may not be covered. We will not compromise the quality of our patient's care and it is our policy to offer these services to our patients. A fee does, however, apply.
When an insurance plan does not cover certain procedures, it does not mean that these services are not necessary. Your doctor can assist you with determining the best course of treatment for you. 
Making Out of Pocket Payments More Manageable
Out of pocket chiropractic expenses are applicable to your Medical Savings Account (MSA) or Health Savings Account (HSA). This will allow you to pay for your chiropractic expenses through pre-tax dollars.
Particularly important information for patients with Kaiser Permanente and Medicare.
Non-Reimbursed Fees
We charge a fee for services that are not covered by your health insurance plan. Examples of procedures that may not be covered include:
Exercise instruction
Doctor assisted stretching and exercise monitoring
Soft tissue therapies (i.e., massage and Graston Technique)
Therapy modalities (i.e.,Kinesio Taping, mechanical traction)
Extraspinal manipulation
Fees for non-reimbursed services are not applicable to your annual deductible. Payments may range from $15.00-$45.00.
You may consider going to another health care professional for these services, such as physical therapy, but keep in mind that there will be an additional co-payment incurred. Often, it is more economical to receive all treatments at one facility.
Diagnostic Testing and Imaging
Some insurance companies do not cover the cost of diagnostic tests and procedures if performed or ordered by a chiropractor's office. If you are unsure if your insurance company will pay for tests and procedures that are ordered by your chiropractor, be sure to verify coverage with your insurance company. We will only recommend diagnostic imaging if it is medically necessary, and will refer you to a local imaging center.
Important information for our Medicare Patients
About Your Examination
Medicare provides a limited benefit for chiropractic treatment which is based on your diagnosis. In order to diagnose any patient, a physical examination must be performed. Unfortunately, Medicare does not pay for chiropractic physical examinations. They are the responsibility of the patient.
The examination fee will not be reimbursed by Medicare or any supplemental insurance carriers. It is not applied to the patient's annual deductible.
New Conditions and Re-examinations
If you have not received treatment in longer than 6 months for an existing condition, or request treatment for a new condition that requires an examination, a fee applies. The fee for re­examinations is not covered by Medicare and is the patient's responsibility.
Covered Services
Medicare will only reimburse for conditions related to the spine. If your condition is not spine related, payment is expected at the time of service.
Medicare will only reimburse for spinal manipulative therapy. Other services that may be integral to your recovery, such as exercises, special therapy modalities and supplies are the patient's responsibility.
Non-Participating Providers
The doctors at Spokane Chiropractic & Sports Injury Clinic are Non-Participating Providers with Medicare. We do accept Medicare and will be happy to treat Medicare patients. As a non-participating provider, we accept a reduced fee for our services but you are required to pay this fee at the time of your service. We will send the appropriate paperwork to Medicare and Medicare will re-imburse you directly. If you have a Medicare supplement, we will forward the appropriate billing information to them as well, so you maximize your insurance benefits. This applies when Medicare is your primary insurance.
If you have a medicare plan that is supplied by a private insurer such as Kaiser Permanente, United Health Care, or AARP to name a few, we will bill them directly for reimbursement. Only applicable co-pays would be collected at time of service.
Restoring your health is our foremost objective. Our treatment will always be rendered solely on the base of need.  Please advise us if you are unable to fulfill this policy so that we may discuss and consider alternative payment options. We require payment at the time of service unless special arrangements have been previously made. Our fees comply with the "usual and customary" rates for this region. We accept cash, checks and some credit cards. For patients who are unable to pay at the time of service, special arrangements are available upon request.
REGARDING ALL INSURANCE
We cannot promise that an insurance company will pay for your care, even when it is preauthorized. We will submit bills to your insurance carrier, but will not become involved in disputes between the insured and the insurance company. This courtesy will commence as soon as we are able to confirm coverage for chiropractic services and have the proper, signed insurance forms. Payment of non-covered and services balances, co-payments and deductibles is expected at the time of services. We strongly urge you to contact the insurance company to verify your benefits; sometimes incorrect information is provided to us.
If an insurance company fails to pay for services, the undersigned is responsible for payment. Ultimately, you are responsible for all outstanding balances. If the insurance company erroneously pays directly to the insured, the amount shall be forwarded to this office within three days.
MEDICARE
Medicare pays for only a portion of chiropractic services and limits the number of reimbursable treatments. Reimbursable care is limited to spinal manipulation and does not include other therapies, services and goods that may be necessary during care. Please be advised of the following Medicare restrictions and regulations.
Medicare will pay for a maximum number of treatments per calendar year, based on your diagnosis. When the maximum number of treatments has been rendered, payment is expected at the time of service.
Medicare will not pay for an initial examination. This fee is the patient's responsibility and will not apply to the patient's deductible.
PERSONAL INJURY, WORKER'S COMPENSATION AND/OR LITIGATION
If your complaint is the result of an occupational or automobile accident, or if litigation is pending, please notify us.  If an attorney is involved, patients are required to sign a Physician's Lien that will be forwarded to the attorney for signature. If we do not receive the signed lien from the attorney within fourteen days, all services must be paid for by the patient at the time rendered. 
Instances will arise when we exhaust all reasonable efforts to secure payment from your insurance company, but the insurance company refuses payment. We will do our best to assist you in securing payment, but all balances are ultimately your responsibility.
MISSED APPOINTMENTS
There is a $70 charge for missed chiropractic appointments and $130 charge for massage without a 24 hour notice. This charge is the patient's responsibility and cannot be billed to the insurance company. We do understand that emergencies arise and may waive the fee in these situations. Missed appointment fees must be paid before scheduling subsequent appointments.We may request a deposit for future appointments. If more than three appointments are missed without notification, we will recommend that you seek treatment at another facility, or schedule care when you are able to commit to the recommended treatment program.
In fairness to our patients who do pay for service, after reasonable efforts on our part to obtain payment, we will solicit the services of a collection agency if necessary.